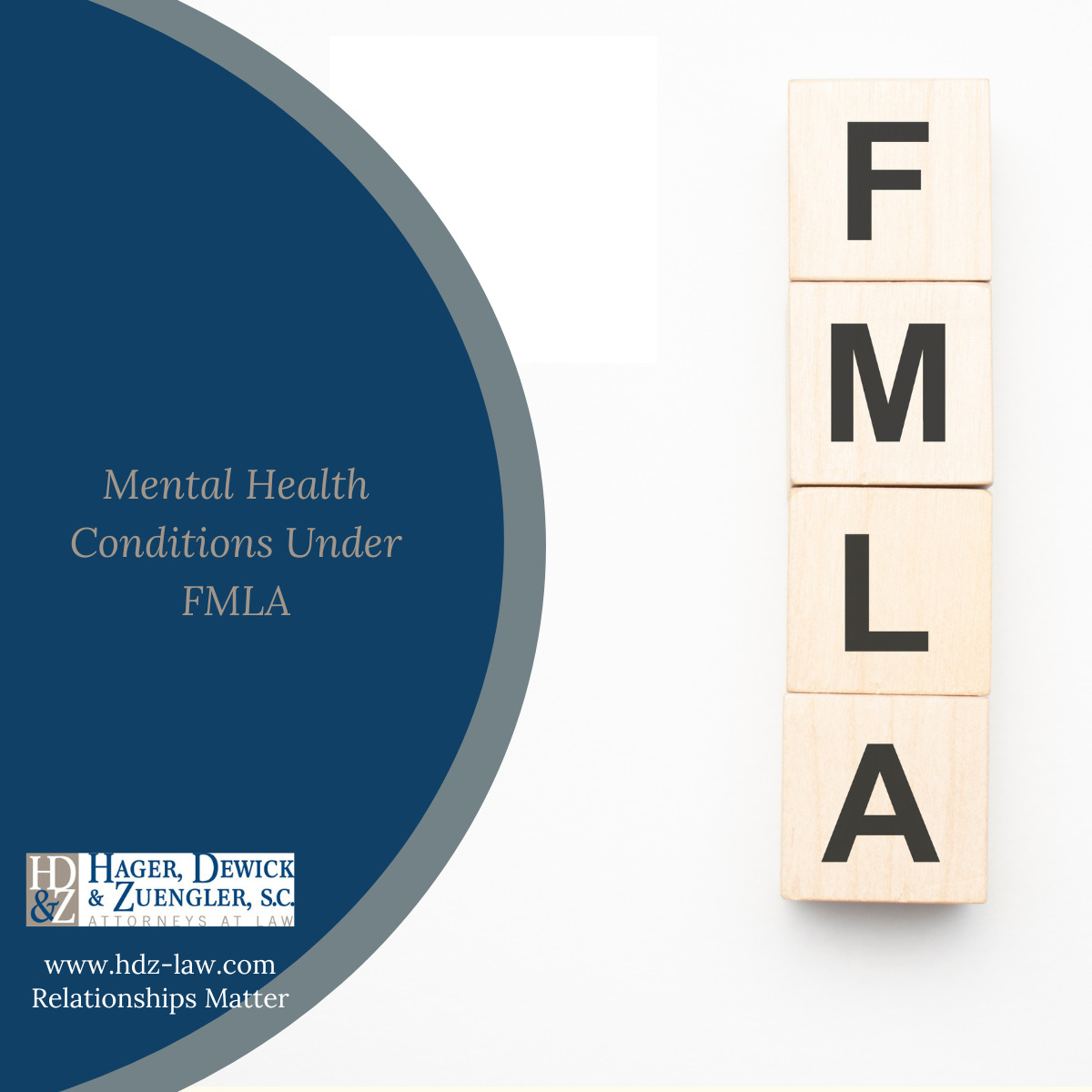 | Employment Law
When most employers think about employee leave under the Family and Medical Leave Act ("FMLA") they typically envision leave for expectant mothers or leave requested to recover from serious physical health conditions such as surgery.  However, FMLA protection applies to more than physical conditions, such as employees seeking leave for mental health conditions.  Research has shown that a growing number of employees are dealing with serious mental health issues that render them unable to attend work.  In response to the increase in employees seeking FMLA leave for mental health conditions, the United States Department of Labor ("DOL") has provided written guidance on when and how FMLA leave can be taken to address the mental health conditions of employees and their families.
Under the FMLA, private employers who have fifty or more employees for at least twenty workweeks a year are required to provide their eligible employees with at least twelve weeks of unpaid leave for serious health conditions.  Employees are eligible for FMLA leave once they have worked for a covered employer for at least twelve months and logged at least 1,250 hours of work during the period immediately preceding the requested leave.  While FMLA is unpaid, it is also job-protected, meaning that employees returning from FMLA leave must be restored to their original job or equivalent position.
The new guidance issued by the DOL clarifies that certain mental health conditions can be included as a serious health condition qualifying for FMLA.  In order to be considered a "serious health condition," a mental health condition must require either:  (1) inpatient care; or (2) continuing treatment by a health care provider.  Inpatient care includes at least one overnight stay in a hospital or other medical care facility.  Treatment centers, such as those designed to treat addiction or eating disorders, also meet the definition of inpatient care.  The DOL also clarified that a serious mental health condition that requires continuing treatment by a health care provider includes:  (a) conditions that incapacitate an individual for more than three consecutive days and require ongoing medical treatment including either multiple appointments with a health care provider or a single appointment and follow-up care (e.g., prescription medication, outpatient rehabilitation, counseling, or behavioral therapy); and chronic conditions (e.g., anxiety, depression or dissociative disorders) that cause occasional periods when an individual is incapacitated and require treatment by a health care provider at least twice a year.
In addition to taking leave for their own mental health conditions, the DOL guidance provides that a parent may use FMLA leave to provide for a spouse, child or parent who have qualified mental health conditions. Typically, FMLA leave to permit an employee to care for a child with a serious health condition is generally available only when the child is under the age of 18.  Notably, the most recent DOL guidance provides that a parent should be granted FMLA leave to care for an adult child, if the child's mental condition qualifies as a disability.    Under FMLA, a disability is a mental or physical impairment that substantially limits one or more of the major life activities of the individual.  Major life activities include, but are not limited to, activities such as caring for oneself, performing manual tasks, seeing, eating, standing, reaching, breathing, communicating and interacting with others.
When an employee requests any type of FMLA leave it is always important for employers to keep in mind the laws related to confidentiality of employee health records.  Employers may require an employee to submit a certification from a health care provider to support the employee's need for FMLA leave.  The information provided on the certification must be sufficient to support the need for leave, but a definitive diagnosis is not required, meaning that the specific mental health condition requiring the employee's leave need not be disclosed.  Any medical records collected by the employer must be maintained in a file separate from the employee's general personnel file.
While it is somewhat difficult to observe mental health conditions that affect employees, employers must still treat them the same as physical health conditions.  If the qualifications set forth above are met, employees are still entitled to leave under the FMLA to care for their mental health condition or the mental health condition of their loved ones.  Given this new guidance, it is a good time for employers to review their leave policies and work with legal counsel to ensure that their policies comply with the new guidance from the DOL.
For more information, contact Corey Tilkens at 920-430-1900